Thursday, February 4th, 2010 at 3:38 pm
This may be your chance to show your stuff at the World Pizza Games:
Once Again The World Pizza Games® Are Coming to Pizza Expo!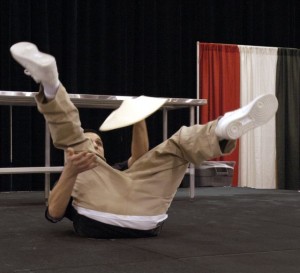 Check out the World Pizza Champions
On Tuesday, March 2nd we will open up the competition and invite you to
come compete in one or all of five events: Freestyle Acrobatics First
Division, Fastest Dough, Largest Stretch, Fastest Box Folding and
Longest Spin.
Fastest Dough: How fast can you toss out (5) 12" doughs!
Largest Dough: How big can you make 18oz of dough in just 5 minutes!
Fastest Box Folding: How fast can you fold (5) 12" pizza boxes?
Longest Spin: How long can you keep a dough spinning over your head?
Freestyle Acrobatics First Division& the Masters Division – With so many dough throwing acrobats getting better and better all the time, we have split the freestyle acrobatics into two categories: *First Division & *Masters Division.
*First Division – created for those up and coming acrobats who want to showcase their talent without having to go head to head against the masters of the sport. The finalists will face off at the World Pizza Games® Finals and Rockin' Party Wednesday night.
*Masters Division – created for those dough throwing acrobats that are the best of the
best. These masters will face off against each other at the World Pizza Games® Finals and Rockin' Party. Please contact the World Pizza Champions for more details for qualifying for this event.
Please Note: If you have won a world or international title in an acrobatic dough throwing competition in recent years you may automatically qualify for the Masters Division. Qualifying for the Master division may make you ineligible to compete in the First Division. If you feel that you may fit into this category, please consult with the World Pizza Champions before entering the competition.
Please see the rules for complete details.
The Daily Schedule of Events
Tuesday, March 2nd
10:00 a.m.
Opening Ceremonies
10:15 a.m.
Fastest Dough Trials
11:15 a.m.
Top five winners announced
11:30 a.m.
Individual Freestyle Acrobatic Dough Tossing – Top 3 Winners Announced Immediately After Trials
Wednesday, March 3rd
10:00 a.m.
Largest Dough Stretch Trials
12:30 p.m.
Largest Dough Stretch Finals – Winners Announced at Finals and Rockin' Party
1:30 p.m.
Fastest Pizza Box Folding Trials
2:00 p.m.
Top Five Winners Announced
2:15 p.m.
Longest Dough Spin Trials
3:00 p.m.
Longest Dough Spin Finals – Winners Announced at Finals and Rockin' Party
6:15 p.m. ~ 9:15 p.m.
World Pizza Games Finals and Rockin' Party – Including: Fastest Pizza Box Folding Finals, Fastest Dough Final, Freestyle Acrobatic Dough Tossing Finals – First Division, Freestyle Acrobatic Dough Tossing Finals – Masters and Awards Ceremony.

*(ALL TIMES ARE SUBJECT TO CHANGE)

Check out the World Pizza Champions


Get your routine ready and come join the fun at the World Pizza Games®!

Please visit www.worldpizzachampions.com/games.php or http://www.pizzaexpo.com/ for more details and to download rules and entry forms.

Good luck to you.

This could a once-in-a-life-time opportunity.

pizza all over Las Vegas,

Albert Grande
The Pizza Promoter