August 24, 2017
3 min to read
Mikes Hot Honey: Unique Pizza Topping
Mike Kurtz and Albert Grande at Pizza Expo
Mike's Hot Honey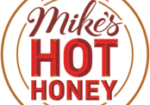 Mike Kurtz the creator of  Mikes Hot Honey started a pizza journey in Brazil while visiting that country. He stumbled into a local pizzeria that was using honey infused chilies as a pizza topping. He was blown away by the taste. Hot and sweet!
He made it back home and started to experiment. After countless false starts he kept trying to perfect a formula that would give him the same tastes he had experienced in Brazil. The taste he was looking for finally came together and Mike's Hot Honey was born.
His pizza journey started with tech guy turned pizza guy Paulie Gee. While making pizza he introduced Pauie to the concept of using hony infused chilies on pizza. The taste made sense and soon a pizza infused with hot honey was on the menu.
I was able to speak with Mike at Pizza Expo and he explained to me the history of how Mike's Hot Honey    was created and developed. Mike also shows passion and understanding for all things pizza. In addition to making his hot honey Mike also has a podcast. I'll put all links below the video.
And if you have not tried Mike's Hot Honey  on pizza you are missing out on a unique taste sensation. If you own a pizzeria I urge you to give this amazing taste a try. Your customers will love you for it.
All I could say when I tasted this on a pizza was WOW!
Mikes Hot Honey Interview at Pizza Expo