September 10, 2014
2 min to read
Tony Gemignani and The Pizza Bible
Tony Gemignani has a new book
coming out called The Pizza Bible. The Pizza Bible, will be officially released in October, but already it is making waves in the world of pizza.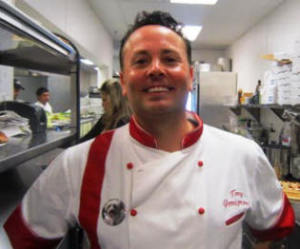 You may be familiar with Tony as a world class chef who has appeared in
every cooking show imaginable. Tony has entered in Pizza Contests
Internationally and has beaten out many other Master Pizzaioli.
He has a number of incredible pizza restaurants
including Tony's Pizza Napoletana, San Francisco and
Pizza Rockin Las Vegas as well as  Pizza Rock in Sacramento.
In addition Tony runs his own pizza school where he teaches the art
of making pizza. It's called

Tony Gemignani's International School of Pizza.
I was honored to be given a private tour of
Pizza Rock, last time I was in Las Vegas. No kidding a very private tour: just me and Tony! Tony took me through every part of Pizza Rock, from the Wood Fired Oven, to the gas fired ones, to the prep
tables. I saw all manner of pizza emerge from all of the pizza
ovens! From the flour storage to the side window leading to the
street that sold slices. I was shown every square inch of the restaurant. He told me he wanted to make several different types of pizza. He is aware of the many regional styles of pizza and wanted to offer pizza for every taste. "Something for everyone", he explained.\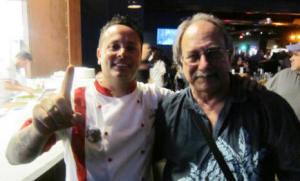 What an amazing experience. A personal tour
from one of the true pizza masters of our time! I will never forget
it! Tony loves pizza and he loves sharing his pizza passion. Let's
face it, you hang around with him for a few minutes you cannot
help get excited about pizza. You get bitten by the Pizza Bug and
you are now are pizza infected!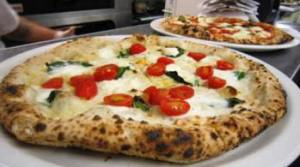 In  The Pizza Bible, Tony share every thing he knows about pizza
including all of the different regional styles. "It's my life's work
about pizza, put into a book" he explained to me.
This book is an amazing resource for any pizzalover.. In this new book, Tony puts forth his entire heart and soul.
The Pizza Bible: The World's Favorite Pizza Styles, from Neapolitan, Deep-Dish, Wood-Fired, Sicilian, Calzones and Focaccia to New York, New Haven, Detroit, and more
From his website:
The Pizza Bible is "a comprehensive guide to making pizza,
covering nine different regional styles—including standards like Neopolitan, Roman, and Chicago, as well as renowned pizza
sub-specialties like St. Louis and Californian—from chef, 11-time
world Pizza Champion, and Guinness world record-holding
pizza-spinner, Tony Gemignani. Pizza is one of the world's most
well-known and beloved foods, and everyone has their favorite style.
I will be offer my review here as soon as I
get a copy. I know I will not be disappointed!
Pre-order your copy:
The Pizza Bible HERE.