January 11, 2015
2 min to read
2014: The Daily Meal 101 Best Pizza in America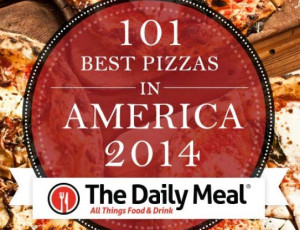 With permission from our friends at The Daily Meal, we are pleased to present their list of the Best Pizza in america for 2014.
We were so excited about this list, we created a video about it. The list is from #50 to #1.
Watch the video and please comment. The entire list is below:
You can see the list here, here at the Daily Meal.
#50 Zuppardi's, New Haven, Conn. (Special: Mozzarella, Mushroom, Sausage, Marinara)
#51 Santillo's Brick Oven Pizza, Elizabeth, N.J. (Sicilian: Pepperoni, Mozzarella, Pizza Sauce)
#50 Pizzaiolo, Oakland, Calif. (Margherita)
#49 Franny's, Brooklyn, N.Y. (Clam Pizza)
#48 The Cheese Board, Berkeley, Calif. (Changes Daily)
#47 2Amys, Washington, D.C. (2Amys: Tomato Sauce and Mozzarella)
#46 Don Antonio by Starita, Atlanta, Ga. (Montanara Stari ta: Lightly-Fried Dough, Starita Tomato Sauce, Smoked Buffalo Mozzarella)
#45 Antico Pizza Napoletana, Atlanta, Ga. (Pepperoni)
#44 Prince Street Pizza, New York City (Prince Perfection: "Our Signature Square": Fresh Mozzarella and "Our Secret Sauce")
#43 Spacca Napoli, Chicago (Diavola: Blended San Marzano Tomatoes, Mozzarella di Bufala, Spicy Salami, Basil, Calabrian Chili Powder, Extra Virgin Olive Oil)
#42 Nellcôte, Chicago Ill. (Sunnyside-Up Organic Egg: D.O.P. Fontina)
#41 Juliana's Pizza, Brooklyn N.Y. (Margherita)
#40 Little Vincent's, Huntington, N.Y. (Cheese)
#39 Pequod's, Chicago Ill. (Deep Dish with Sausage and Pepperoni)
#38 Best Pizza, Brooklyn, N.Y. (White Pizza)
#37 Star Tavern Pizzeria, Orange, N.J. (Thin Crust)
#36 Colony Pizza, Stamford, Conn. (Sausage Pie)
#35 Pizzeria Delfina, San Francisco (Salsiccia Pizza)
#34 Lombardi's, New York City (Pepperoni)
#33 Patsy's, East Harlem, N.Y. (Cheese)
#32 Joe & Pat's Pizzeria, Staten Island, N.Y. (Vodka)
#31 De Lorenzo's Tomato Pies, Robbinsville, N.J. (Tomato Pie)
#30 Al Forno, Providence, R.I. (Margarita)
#29 Regina Pizzeria, Boston (Melanzane)
#28 Grimaldi's, Brooklyn, N.Y. (Margherita)
#27 John's of Bleecker, New York City (Bruschetta)
#26 Louie and Ernie's, Bronx, N.Y. (Sausage Pie)
#25 Varasano's, Atlanta, Ga. (Nana: San Marzano Tomatoes, Mozzarella, Herbs and Spices)
#24 Bru Room at Bar, New Haven, Conn. (Mashed Potato and Bacon)
#23 Nick's Pizza, Forest Hills, Queens, N.Y. (Mushroom and Sausage)
#22 Kesté, New York City (Kesté)
#21 Gjelina, Los Angeles (Lamb Sausage)
#20 Co., New York City (Popeye)
#19 Apizza Scholls, Portland, Ore. (Apizza Amore)
#18 Lucali, Brooklyn, N.Y. (Pepperoni)
#17 New Park Pizza, Howard Beach, Queens, N.Y. (Cheese, "Well-Done")
#16 Rubirosa Ristorante, New York City (Vodka: Vodka Sauce and Mozzarella)
#15 Santarpio's, Boston, Mass. (Mozzarella, Sausage, and Garlic)
#14 Motorino, New York City (Brussels Sprouts)
#13 Joe's, New York City (Cheese)
#12 Modern Apizza, New Haven, Conn. (Italian Bomb)
#11 Una Pizza Napoletana, San Francisco (Margherita)
#10 Tony's Pizza Napoletana, San Francisco (Margherita)
#9 Paulie Gee's, Brooklyn, N.Y. (Regina)
#8 Totonno's, Brooklyn, N.Y. (Margherita)
#7 Flour + Water, San Francisco, Calif. Margherita)
#6 Pizzeria Mozza, Los Angeles Calif. (Squash blossoms, Tomato, Burrata Mozzarella, Tomato Sauce)
#5 Sally's Apizza, New Haven Conn. (Tomato Pie: Tomato Sauce, No Cheese)
#4 Roberta's, Brooklyn N.Y. (Margherita)
#3 Pizzeria Bianco, Phoenix, AZ (Margherita: Tomato Sauce, Fresh Mozzarella, Basil)
#2 Di Fara, Brooklyn, N.Y. (Classic Round Pie: Mozzarella, Parmesan, Plum Tomato Sauce, Basil, Olive Oil, Sausage, Peppers, Mushroom, Onion)
#1 Frank Pepe, New Haven, Conn. (White Clam: Clams, Grated Parmesan, Olive Oil, Garlic, Oregano)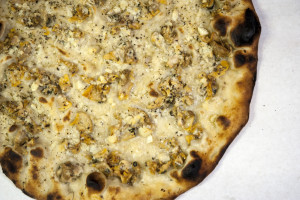 The Pizza Therapy Pizza Book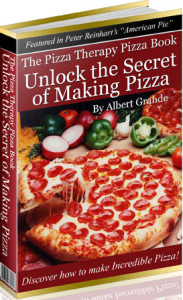 Product Review
Albert Grande Of Pizzatherapy.com Shows You To Make Pizza
Claim your copy below:
The Pizza Therapy Pizza Book: Unlock the Secret of Making Pizza