December 19, 2011
1 min to read
The Pizza Place Interview with Rosario Cacciatore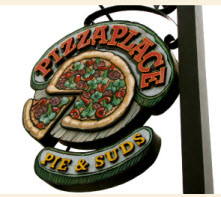 Rosario Cacciatore knows pizza. He first started to make pizza while he was the dishwasher at the Recovery Room, in New London. FYI: the Recovery Room makes some of the best pizza in Southeastern Connecticut.
Now, Rosario has opened his own pizzeria in nearby, Westerly, Rhode Island. Known simply as the Pizza Place, he continues to make great pizza.
Now The Pizza place is making the best pizza in Rhode Island.
For me one of the most interesting things he states is about making pizza. He does explain that you need to use only the finest ingredients. You need very fresh high qulaity ingredients.
But then he goes on to explain that unless you have a love for pizza, it just does not turn out right.
Visit the Pizza Place and let us know what you think.
The Pizza Place
43 Broad Street,
Westerly, RI 02891
(401) 348-1803 or Toll Free 1-877-596-7739
Here is something you may find useful, if you are in the Pizza Business or considering the pizza business. Profits in the Pie: Effective Marketing Tactics to Seize YOUR Slice of the $38.1 Billion Pizza Pie