December 10, 2014
1 min to read
The Art of the Pizza Box from Scott Wiener, Scott's Pizza Tours
Scott Wiener of Scott's Pizza Tours is not only all about showing pizza fans, the best New York Pizza (yes there are a lot of them!), but he also has a very unique hobby. He collects pizza boxes. Unusual pizza boxes. Pizza Boxes that are works of art. Scott was recently honored by The Guinness Book of World Records as having the largest Pizza box Collections in the world!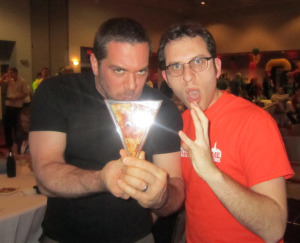 I have personally taken his pizza tour and I was totally blown away by his knowledge and enthusiasm for all things pizza. He showed us the exact spot where Genaro Lombardi opned the first pizzeria in the United States. He had us sample some freshly made mozzarella at a hidden gem of a place in New York's Little Italy. Then he took us to the current location of Lombardi's to sample some amazing pizza cooked in a coal fired oven. The tour was informative, educational and tons of fun! The guy loves his job. He loves sharing his pizza knowledge.
You learn about pizza by just being on the street with him. He oozes pizza passion. He has traveled the world sampling the pizza and sharing his journey. He is a walking encyclopedia about pizza. And on top of everything else, Scott is a great person. He is a fun loving pizza advocate. He is someone I really enjoy hanging out with.
Scott talks about his latest book: The Art of the Pizza Box. Scott runs pizza tours in New York city and has an obsession with pizza. He loves all things pizza and is a true pizza activist!
You can see more of Scott at this You Tube Video.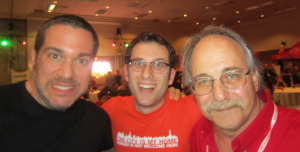 You can check out Scott's book, here: Viva la Pizza!: The Art of the Pizza Box