December 9, 2014
2 min to read
Outline of the Pizza Journey to Date
Tom writes:
"I always admired the best pizza shops in the area.  I had heard there was good margin in it, and I marveled at the business they did, extrapolating the numbers and easily estimating profits over $200K, sometimes far more.  Benny's Pizza in Marysville went ballistic about 10 years ago. Then it was Michael Angelo's in Kenton that topped my favorites list for a while. I got a wood fired oven in the back yard a few years ago.
I'd serve pizzas after croquet parties and didn't expect perfection.  It was a lot of fun and I got better over time.But then about a year ago I started getting more serious about perfecting things, talking to more shop owners, reading a lot on the web, always making two different doughs and comparing the results. And I caught a break this past summer  when a friend gave me a perfect sauce recipe that hit a home run.Then comes the The Pizza Bible  in October – shipped to my door unordered and unannounced.  The "master class" works out so beautifully.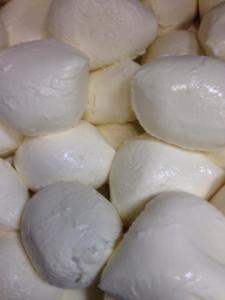 The precision.  The patience.  The feel.  The art.  Finally last week, my first shipment of diastatic malt powder from King Arthur arrived.  You see I cook in my 500F home convection oven in the winter, and needed a dough that would brown on schedule with the toppings.  I use two large 14 x 19 stones 1 1/2″ thick, preheated for two hours and the top one "broiled on" for 20 minutes before the pizza goes in.  Even before the malt Tony's dough system was really paying off.  Now I am in a very good place, with almost every home guest telling me "that is the best pizza I have ever had."
I have an idea for a high end shop, with a way to deliver pizzas with no loss of dough quality.  But I promised my friend
Michael
(Six Hundred Downtown)
I wouldn't go into business in his market. I think there is an even better market 30 – 40 miles to the east…
We'll see what happens.
I have also started doing a little private function work – supplying dough and sauce for a minimum of 50 14″ pizzas – throwing in basic lessons on shaping, assembly, baking and finishing, and using a local church's commercial kitchen.  Flying under the radar for now.
So that's where I am.  51 years old, still feeling like I am near the beginning of my pizza journey and loving every bump and curve in the road.
The Pizza Bible   I guess you could call me a true believer."
My response:
You are truly an inspiration to every wannbe pizza maker in the world (I include myself into that group.)
Thanks so much for sharing your journey and please keep sharing the rest of your journey with us!
The Pizza Bible: The World's Favorite Pizza Styles, from Neapolitan, Deep-Dish, Wood-Fired, Sicilian, Calzones and Focaccia to New York, New Haven, Detroit, and more