June 8, 2014
5 min to read
The Pizza Trolley Is for Sale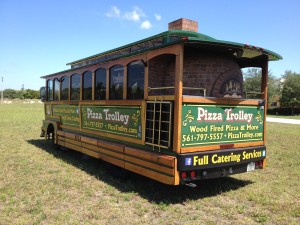 I was recently contacted by Michael about The Pizza Trolley.
Michael purchased the trolley and retrofitted it to sell pizza. And it turned out beautiful!
Unfortunately, due to personal reasons, he needs to sell it…And once I saw this baby, I had a lot of questions myself….
Albert: Where did you purchase your mobile pizza oven?
Michael: We purchased the Trolley thru a trolley broker located in Colorado. The Trolley was used in a park in Arkansas for transporting their visitors. We had it shipped to us in FL. We are in construction, so we did the complete retrofit. I have attached an information sheet on all the work we have performed. Also, this link is to our drop box with photos of inside and out. 
Albert: What type of oven do you have? 
Michael: We have a Mugnaini 120 purchased directly from them.
Albert: What is your asking price for your mobile pizza oven? 
Michael: Asking $129,000, but will listen to reasonable offers. We have actual cost of slightly over $130,000 into it with all the work, equipment, etc.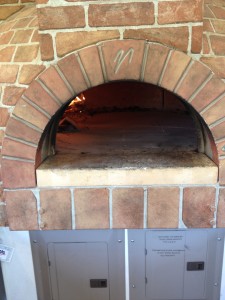 Albert: You want me to put the word out that your pizza business is for sale?
 Michael: Certainly I would welcome that. We have not been in business long enough to establish strong Good Will for a business sale, but the reception we received in the short time we were in service is truly  a great sign. We were very proud that we offered personal sized, made to order pizzas of very high quality. With the speed with which the oven bakes, we were well ahead of any other food truck at truck festivals and events because we could service our customers much quicker. We use a 3 ½ oz ball, makes 7" pizza. Use 00 flour, San Marzano tomatoes, imported olive oil. We had not yet gotten to point of making our own mozzarella and burata but it was in our sights to do so.
Albert: Would you be willing to train the new owner? 
Michael: I would be happy to do so. And, I think a smart buyer would want that, unless they were to go to one of the very noted Masters of Pizza for training.
Albert: I also have a few tried and true suggestions, if you want to hear them…  
Michael: Absolutely I would be interested in hearing them. Trolley is way too costly to leave parked in garage. I need to find a happy owner.
Albert: Michael, one of the best ways to promote anything is through video.
I was so excited about the Pizza Trolley, I had to make a video.

If you are interested in the Pizza Trolley. you can contact Michael at:
Here is More Information:
 FOOD TRUCK FOR SALE PIZZA TROLLEY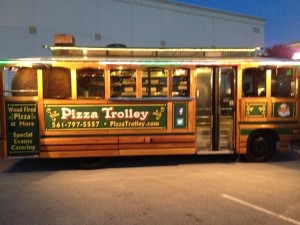 1991 Chance, authentic Old World Trolley for sale. Exterior veneer in varnished wood and brass
25' Long; 10'6" High. 8'6' Wide. 20,000 Pounds
Features:
1. Cummins diesel motor (5.9) 70,335 miles on odometer.
2. Custom built air conditioning system by Ocean Breeze, Stuart, FL. Thermostatically controlled
temperature with 3 independent fan motors.
3. Exhaust fan- MaxxAir with rain cover. Reversible fan for air intake or exhaust in work cabin.
4. Pizza oven- wood fired, Mugnaini 120 brick oven with Exhausto oven exhaust fan. Oven exterior
inside work cabin and exterior elevation are faux painted brick to replicate brick without the
added weight of actual brick. Oven baking floor is 48" x 52".
5. Electrical- Power supply is by shore power when on board generator is not in operation, or via
on board generator. Shore power will operate all refrigeration. Generator operates all electrical
requirements of Trolley.
6. Generator- water cooled diesel powered 20 kW Kubota. Generator can be turned on and off
from inside Trolley. Generator is located on a slide out rack for service only. Maintaining the
generator inside the specialized, insulated compartment provides a much quieter operation and
more aesthetic appearance. Generator does not need to be exposed to exterior for operation.
7. Gray water- Trolley is equipped with a 30 gallon gray water holding tank with exterior "dump"
for gray (used) water. On board stainless steel hand sink and stainless steel 3-compartment sink
drain to this storage reservoir.
8. Fresh water- Trolley is equipped with a 25 gallon fresh water reservoir with easy fill exterior
connection. Hot water is generated via an Eemax electric tankless hot water heater.
9. Pizza prep table- 2-door stainless steel Alamo refrigerated pizza work station, 70" W x 31" D x
42" H. 16.85 cubic feet. 2 doors under counter refrigerated storage and 2-door lift up top
refrigerated work station.
10. Refrigeration (beverage) – Frigidaire Professional Series stainless steel 19 cubic foot
refrigerator.
11. Audio and Electrical
Fully wired with 110v receptacles inside to receive devices such as: TV, credit card
processor; portable cooking (steam table, micro, induction, charge I-pad, phone, etc.), sound
equipment. Exterior lighting is accent, 2 levels LED rope lighting at upper and lower fascia's,
weatherproof outlets on service, rear, and driver sides of vehicle, and 2 exterior portable flood
lights on extension arms to illuminate service side of Trolley; accent lighting over exterior dome
of oven. Interior cabin lighting is LED puck lighting above work station, oven, and service
counter, giving a much softer and comfortable light than fluorescent lighting.
Audio- wired to permit portable exterior speakers to play music through I-pad or other
device, and customer paging or announcements. Music can also be played in work cabin as well.
Fully wired to permit adding TV to Trolley exterior for menu, sporting events, etc.
12. Rear camera- Trolley is equipped with rear view camera that operates to a separate monitor
whenever the motor is operating.
13. Air curtain on sliding service window
14. Air pump to maintain 120 PSI in the Trolley's air brake and air ride system for balance and
stabilization of vehicle while on shore power parking
15. Custom vehicle identification and branding wrap
16. Ample shelving storage above work counters and below. Under counter cash drawer.
Under counter small utensil storage drawer.
17. Summary of work performed after our 2013 acquisition:
Interior of Trolley was completely gutted to bare frame. All suspension air bags were replaced.
Metal sub-floor and waterproof membrane was installed for protection from undercarriage
water intrusion. All 6 tires were replaced with new Toyos.
Both heavy duty batteries were replaced . The engine injection pump and alternator were completely rebuilt, and new injectors
were installed as a matter of routine maintenance.
Running lights have been replaced with LED lights. All upper window glass was removed and resealed to prevent water leaks. Care was taken
to preserve the old world integrity of the Trolley during its transformation to a food truck.
Product Review
You Can Build Your Very Own Wood Burning Pizza Oven And Make The Same Delicious Pizza As You'll Find In Those Authentic Italian Restaurants All Over The World!
Check out Build Your Own Wood Burning Pizza Oven