October 20, 2011
2 min to read
Maruca's Tomato Pies: Amazing Pizza in New Jersey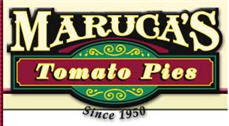 When you stumble upon your first Tomato Pie it's like getting that first ripe Jersey tomato of the season! So elusive for the first few months of the growing season and then WHAM! You pick one and it's THE ONE!
Same goes for Maruca's Tomato Pies, or pizza, if that's the only vernacular you use to describe this type of delicous food.
It's a genre in pizza all it's own, and rightfully so. You've heard of 'Tomato Pie', maybe, maybe not; certainly if you live in NJ you have.
On the other hand the Tomato Pie purveyours are a cult unto themselves as great as the Neopolitan Brick Oven cult's are to it's fans. Tucked away in places in the State like Trenton, Belmar, and Seaside Heights amongst others.
The fact that the places that are exclusively places that sell only Tomato Pies are few and far between is part of the allure of hunting one down. Worth seeking out is an understatement, once you've aquired a taste for great Tomato Pie there is only your conscience from keeping you from getting in a car and heading to one every chance you can
sneek away to one.
It's the 'Fight Club' of pizzeria's to me, elusive, but available for anyone who knows where the places are.
One thing you'll immediately notice amongst most of the Tomato Pie shop Pizzaiolas is that they are pie purists (for the most part). They respect the ingredients as much as any other Pizzaiola worth their dough. The crust is hand formed then adorned with cheese in copious amounts, sauced with perfectly seasoned tomato sauce and slid into their oven for the bake.
When the Tomato Pie is extracted from the oven the magic begins to grasp your attention because it smells like the best pizza you'll ever eat (it may ver,well be!). Something about the way the sauce gets cooked on top of the cheese, yet the sauce doesn't overpower your taste buds.
Rather, the sauce enhances your pizza experience by highlighting the crisp crust underneath, and accents the cheese, which in it's own right has pockets of crispy cheese and stretchy cheese all on the same pie!
The timid order a 'trial slice', unaware that they'll soon be
wishing they had ordered a whole pie, as had happened to me.
Having been raised on a NY slice from venerable places like Joe's on 6th Ave and pies from all of the classics like Totonno's, Lombardi's, Grimaldi's, etc I can tell you that your first bite of Tomato Pie is a Pizza Altering Experience! It's not 'like' a NY Slice, it's not anywhere near a Neopolitan Slice, it's not similiar to any pizza type you've ever had in my experience, it's it's own unique style of Pizza and rightfully so.
Maruca's Tomato Pies
1927 Promenade
Seaside Park, NJ 08752
(732) 793-0707
Albert's side note: Maruca's offers franchise opportunities as well.
If you are looking for the Best Pizza in New Jersey, go to Pizza Therapy.
End of Part 1
Submitted Eugene in Sandy Hook, NJ exclusively for Pizza Therapy and Legends of Pizza Readers