January 17, 2010
1 min to read
Jon F. Noted Pizzaiolo Tells His Secrets
Jon F. on the state of Pizza in New Haven, Italy and beyond!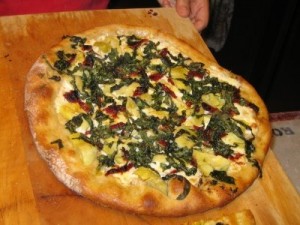 Jon F. has been around pizza his entire life. As a matter of fact member's of his family owned an Italain Restaurant. It was not until he went away to college did his entire perspective of pizza change.  One of his friends took him to Pepe's Pizza in New Haven and this event transformed his notion of pizza.
The first thing he noticed was the enourmous coal fired oven. "What manner of beast is this?" he wondered. As soon as he had his first taste of New Haven pizza, he realized, his total idea of pizza had changed, forever. He ended up going back again and again.
This taste of Pepe's inspired him to go on a quest to discover incredible pizza. He started making his own pizza based on some of the pizza he tasted in his travels. He would eventually go to the West Coast of the United States and sample pizzas created by Brian Spangler of Apizza Scholls. He was drawn to Italy to find some of the best pizza that country had to offer.  This is his story a story of pizza discovery.
I'm pleased to present to you a wonderful pizza interview. Noted pizza expert Jon F. shares all of his secrets including:
His take on what makes Pepe's Pizza so special.
Inside information about  Sally's Apizza on Wooster Street 
The real secret to Pepe's Pizza and Sally's Apizza
Jon's thoughts on Italian Pizza
The difference between Italian pizza and American Pizza
The Pizza of Portland
Apizza Scholls
Taste Bud
The most important thing you can do when you cook your own pizza.
more pizza tips and tricks.
Jon's interview is informative, lively and interesting.
He is a pizza expert and he reveals many tips and tricks.
The Jon F Pizza Interview
Play Now
|
Play in Popup
|
Download
(427)
This interview is sponsored by The Pizza Therapy Pizza Book.