June 19, 2013
1 min to read
Giulio Adriani of Forcella Pizzeria, Pizza Passion in New York
Giulio Adriani of Forcella , is a pizza master. He oozes pizza passion. His pizzerias in New York have been wildly successful. He loves sharing his pizza knowledge. He is a teacher as well as a master pizzaiolo.
He prides himself on trying new things. He was the first to bring fried pizza dough pizza called the "montanara". This is a very unusual pizza concept.  As you know to introduce new tastes into the New York pizza scene comes with a certain amount of risk. However, the pizza became wildly popular and is one of the newest pizza concepts sought after in the New York.
He also opened the first Kosher Neapolitan Pizzeria in the World. This became very popular as well. In order to be Kosher certain guidelines must be followed. Guliano also makes his own cheese for his pizzerias. And this is necessary in order to make great taste as well as making sure everything is done properly and correctly.
He explains the reason for his success:
Passion: you need to be passionate about what you do. This needs to shine through with every pizza you make.
Attention to Detail: If you want to make great pizza, you need to be aware of all the details that go into every dish you create.
Knowledge: A key ingredient to success. You have to know what you are doing.
Here is an interview with Giulio from Pizza Therapy:
Guiliano is willing to share all he knows and offers classes at his pizzerias.
Forcella
485 Lorimer St.
11211 Brooklyn NY
(718) 388-8820
Forcella is an Italian pizzeria in Brooklyn dedicated to the art of making traditional Neapolitan pizza. Double certified pizza master Giulio Adriani creates an assortment of twenty different pizzas, as well as a variety of antipasti, insalate and housemade desserts.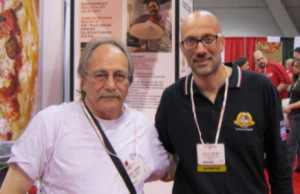 You can listen or download this interview with Giulio, below:
Giulio Adriani of Forcella Pizzeria, Pizza Passion in New York
[ 2:41 ]
Play Now
|
Play in Popup
|
Download
(514)
For more pizza passion check out:
Find the Best Daily Deal in Your Neighborhood