December 31, 2011
2 min to read
Get Your Profits in the Pie from Scott Anthony, Pizza Expert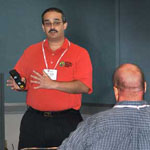 Scott Anthony knows pizza. From his humble pizza shop in rural Pennsylvania he has built an empire.
Profits in the Pie

is based on his experiences at:
Punxsy Pizza
115 N Findley St.
Punxsutawney, PA 15767
Phone number (814) 938-8132
Scott's Pizza Consulting Business Website
Now he is ready to tell all of his secrets. He has published a new book entitled: Profits in the Pie: Effective Marketing Tactics to Seize YOUR Slice of the $38.1 Billion Pizza Pie
This is an outstanding book for anyone who is in the pizza business. Or for anyone who is seriously considering the pizza business.
Anthony holds nothing back here. He reveals all of his secrets, and what has made him a success.
I personally know Scott and I can attest to his expertise in the business.
One of the best things about him, is that he and his pizzeria, give much back to the community.
That may be an inkling to his wildly successful restaurant.
He is able to go head to head with much larger chains. As a matter of fact the town he is located in: Punxsutawney, PA, which  has a population of less than 10,000. Very small by anyone's standards.
Yet, Scott has been able to grow his business exponentially.

Scott explains:
Profits in the Pie: Effective Marketing Tactics to Seize YOUR Slice of the $38.1 Billion Pizza Pie

"Turn YOUR Passion into Profits', so you can always do the things you love.
The business tactics and strategies in this book flat out work – not only for
me, but for students and friends of mine. Inside this book you will find tactics
and strategies to:
-Help you envision what your life can be out of the kitchen – Have the time
to do the things you love with the people you love!

-Open your eyes to the possibilities of happiness in the pizzeria – looking
forward to a profitable & enjoyable day at work – everyday!

-Give you marketing ideas that are tried & true – not wasting money, but
making $1000's!

-Help you easily implement marketing tactics – have an action plan you can
act on making you a local celebrity!

-Tweak ideas & make them your own – be the talk of your town with
'innovative' ideas that generate free press!

My 17 years of pizza experience can help put you on your way to the bank.
This book has no theory. It's operator to operator – and contains what you
need to grow your pizzeria!"
If you run a pizza business or ever thought of the pizza business, you need to grab this book:
Here is my audio review:
Profits in th Pie Review by Pizza Therapy
[ 1:59 ]
Play Now
|
Play in Popup
|
Download
(484)

Profits in the Pie: Effective Marketing Tactics to Seize YOUR Slice of the $38.1 Billion Pizza Pie
Also available in Kindle format:
Profits in the Pie