April 29, 2014
6 min to read
In Search of A Pizza Dream Part 3
Anthony Saporito had a dream to own a pizzeria…In this the final episode, we conclude our interview with him. Listen and learn about a Legend of Pizza in progress!
Albert: What kind of Pizza do you make? What is you favorite to make.
Anthony: At my new place, "Urban Fire" we will being making Authentic Neapolitan style, using "00" flour, salt, water and yeast, That's it. We just purchased a beautiful Stefano Ferrara, wood burning oven from Naples, and really want to do things the Authentic way. I'm all about tradition, and nostalgia. but I also experimenting with new ideas as well.
Just recently, I had the honor to be invited over my cousin's house and cook with his 88 year old Mother in Law. Her name is Mrs. Kay Cammareri, and she is the Matriarch of "Cammareri Brothers Bakery" in Brooklyn. Her bakery was a focal point in the hit Movie, 'Moonstruck', and even Nicholas Cage's Character took her last name. She still lives above where the old Bakery was located in the movie. She showed me how to make, "Sfincione", a Sicilian pie made in a rectangular tray, topped off with tomato paste, onions, anchovies and Bread crumbs. The pie was phenomenal, The onions and the paste make for a very Sweet sauce. The experience I had while making it was even better. As Mrs. Cammareri was instructing me, she told different stories about different people, and places, different occasions to whom she served the dish to over the last 60 years. That makes the dish even more special. So I guess my favorite pizza to make is any one that has a great story behind it.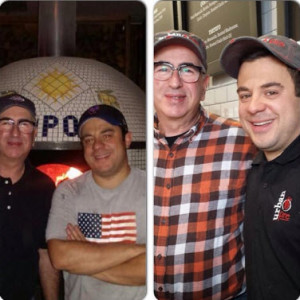 Albert: Tell me about your new Pizzeria
Anthony: The name of my place is Called "Urban Fire". We are located in Madison, New Jersey. Its a great little town filled with friendly people who love good food. We will be serving traditional Neapolitan pizza and Italian Street eats. Our Pizza is going to be done in a Fast Casual/ Create your own, model. You will be able to choose your base of, Margherita, Marinara, Bianco, or Pesto and then go down the line and choose what you want. If you don't want to create your own, you can choose from our list of Specialty pies. I like giving people the chance to interact in what they want. It creates for a lively, different experience. It's a great way to also get to know your customers. I've already said, If someone comes in and orders the same pie a bunch a times, we will definitely feature it on the menu board. So I plan to have a lot of "Joe" or "Mary" Specials.
I know that few other people are doing "create your own", out west, but from what I understand, we will be the only ones doing it with a 100% wood fired oven. Even though the assembly line method is a bit unorthodox, I still wanted to keep the artisan tradition of cooking the pie intact, which is why we got a Stefano Ferrara oven. Hopefully I'm not crazy in trying this out, but Think it'll be fine.
We also will serving a variety of "Street Eats". In Italy, you can eat some really great food without ever stepping foot in a restaurant. I loved the idea of replicating what street Vendors have been doing for Decades. We will have sandwiches that represent different street foods from different cities, such as a "Porchetta" (Rome), Panelle,(Palermo Sicily) and Lampredotto (Florence–ours will be made of beef and not cow stomach-haha). We will also have sides such as Arancini, (rice balls) Prociutto balls, and Zeppole. And of course, in Naples, Pizza is the original Street Food.
Albert: What would you tell someone who wanted to get into the pizza business?
What advice would you give them?
Anthony: I'd say "Do NOT get discouraged". When you first start out, its almost like learning a different language, and can be a bit overwhelming. I've noticed that 99% of Pizza makers are friendly, and want to help each other out. It also seems like everybody knows each other. It's really cool. So ask questions, and don't get discouraged. Of course you will run into the Naysayers and extremists; The guys with egos as big as a house, who think that they are curing diseases, and keep everything a secret. Don't bother with them. There are plenty of people out there who want to help. And if you can't find anyone, call me.
Once you get your basics down, start experimenting. Have Pizza Parties where you cook for everyone. It's fun and gratifying. You'll see that after a while, you will adopt your own style. Special ways you like doing things which are 100% yours. If you are into it, everything else will fall into place. You'll start picking up things you weren't even looking for. Like I said earlier, it's not rocket science. It's supposed to be fun and creative. And if anyone tells you, "That's not the right way to do this" , or, "That is wrong", ask them to see the book where the rules of Pizza are written.
When I first said I wanted to start my own place, everyone had their own opinion. People will tell you "How will you pay the bills?" , "It's a lot of work", "It's very hard", or my favorite, "There's so many places for Pizza". All of a sudden, everybody is an expert of a sudden. Paulie Gee gave me the best rebuttal for these naysayers. "Tell' em thanks", he said, "And then ask them how many Pizza places they own"
If you're considering getting into the Pizza business, think about why it is that you love Pizza. What about it moves you? I guarantee its because it evokes happy feelings, and in turn you want to share those feelings with others. What is better than that? While its true, I haven't sold a Pizza on my own just yet but I know that I will do everything in my power to make sure I succeed. I love the quote from Henry Ford that says; "Whether you think you can, or can not do something, you're right." This goes for anything in life. Even Pizza
Albert: When do you plan to open? What is your address?
Right now I am playing with all my recipes. I'm having a pretty good time with it too. I invite everybody
I see walking outside to come inside and give me their opinion. My store is all built out. Right now I am just going through the hiring Process. So Hopefully I will be able to get open by mid April.
Our address is:
URBAN FIRE
6 Main Street
Madison, NJ 07940
I am also currently getting a Web Site up, but nothing is up yet. However, I make sure to post on our progress on Social Media.
Facebook:
Urban Fire
Instagram:
Urban_Fire
Twitter:
urbanfirepizza
I would like to thank you, Albert. I've enjoyed your articles and videos over the years, but I've also enjoyed your insight. So Thank you for helping me tell me story, and please stop by the Next time you are in the NY/NJ area.
All the Best,
Anthony Saporito