July 19, 2011
1 min to read
Pizza Business for Sale: Pizza in A Box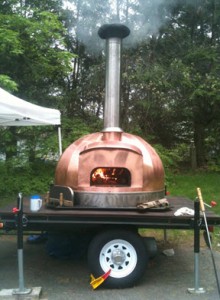 I was just informed that the following pizza business is for sale:
It's a La Panyol model 83. (from Maine wood heat)
The oven is on a lazy Susan so no matter where you park, the oven will spin to the position that you need it too. The trailer tongue is also removable. It's a custom 6'x8′ trailer with electronic brake assist (7 pin wire harness). 1 full size spare tire with matching rim (has u-bolt to attach it to the trailer tongue). The oven and trailer weigh 1,280 lbs.  Uses a 2″ ball hitch.
Tools:
4 peals (2 wood peals for making and loading pizzas, each holds 3-4 10″ pizzas. 1 sm peal, 1 large peal for moving pizzas in the oven)
Wire brush, ash rake, and ash shuttle.
2 sneeze guards each 2'x 4′ long, each 2 pcs
1 sneeze guard @ 2'x2′, 2 pcs
1 sneeze guard end cap @39″
Sneeze guards are made with 1/2″ copper pipe and Lexon plexiglass they're designed for use with 6′ folding tables, and to start at the table top. End cap's designed for use with custom garnish caddy (also included) but could be used with out the caddy with a slight modification.
Custom garnish caddy with 2 metal inserts for ice and 3 metal dividers.
2-6′ foot folding tables
"wood fired pizza" lawn signs
1-infrared digital thermometer
 Approximately 200 10″ pizza boxes
1 soft sided cooler for dough boxes
Tire lock for trailer
Food storage (all Cambro):
6 stackable dough boxes (18x26x3)  (new in case)
6 Dough box lids  (new in case)
1-deep 1/3 size with sealable lid
3-1/2 deep 1/3 size with sealable lids
9 1/2 deep 1/6 size
8 1/6 size sealable lids
2 hard plastic lids for use with ladles
1 hard plastic lid
2 2oz ladles
1 pizza cutter
The oven is in Glastonbury, CT
I'm asking $19,000 or B/O, as part of the purchase I will train whoever buys the oven in how to operate and maintain it. If it's to be operated in the state of CT and they like the registered business name "The Rolling Stone llc" I'll include that as well.
Ask for
Scott   Tell him Pizza Therapy sent you.
Call
860-899-8690
email:

Get a Free $100 Starbucks Gift Card!