March 26, 2013
1 min to read
Michael Shepherd World Pizza Champion
Michael Shepherd is an interesting pizzaiolo.
As he explains on his website:
From humble beginnings as a delivery driver for a national chain to the owner of three independent pizzerias, he has over 20 years of experience in the pizza business. Growing his original pizzeria from a meager $2,000 per week to over $1 million dollars a year in sales in a town of only 8,000 and opening his newest pizzeria at the $1.2 million sales mark in a town of 13,000 with an advertising budget of nearly zero.
I interviewed Michael at the International Pizza Expo. He was getting ready to set up all of the games. He was busy with these tasks the entire Pizza Expo.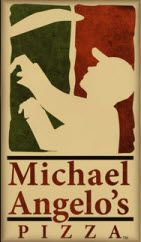 Michael is the owner of Michael Angelo's, and is a founding member of the World Pizza Champions. He recently started a new pizza restaurant called 600 Downtown.

Michael explained all the preparation needed for the World Pizza Games. He also spoke on several on several panels.
This is a great interview with one of the greatest World Pizza Champs.
Make sure you check out Michael's new book:
Growing Pizza: How to Plant the Seeds to a Successful Pizzeria