November 11, 2011
2 min to read
Maruca's Tomato Pies on the Boardwalk at Seaside Park, NJ, Part 2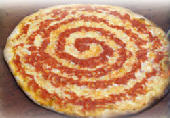 I can tell you that your first bite of Tomato Pie is a Pizza Altering Experience! It's not 'like' a NY Slice, it's not anywhere near a Neopolitan Slice, it's not similiar to any pizza type you've ever had in my experience, it's it's own unique style of Pizza and rightfully so. There are now 4 types of Pizza in my Universe, NY Slice, Neopolitan, Brick Oven, and Drum Roll PLEASE……Tomato Pie!
Do Not mislabel Tomato Pie as 'Pizza' my friends, no, it's as distinct as a Ferrari is from a Porsche, both are great examples of great cars. Such are Maruca's Tomato Pies on the Boardwalk at Seaside Park, NJ where they have been serving up the Ferrari's of Tomato Pies since 1950. Now, you have to understand that quality ingredients do not come cheap, and Tomato Pies at Maruca's come in large 18″ for $16, and extra large 24″ for $25.
They offer a standard fare of toppings, but I insist that you try your first Tomato Pie 'Au Natural', or 'Margherita' to get the whole experience I have described above for you!
Since Maruca's only has their one location at Boardwalk and Porter Ave in Seaside Park, NJ the Owners are always there making the pies and available to answer your questions on it's history. Hailing from the birthplace of Tomato Pies, Trenton, they are masters of their craft and know it well. All the way home I kept chastising myself for not ordering an extra large to go….but then again none of it would've made it home!!
Now that the Summer beach crowds have gone home, street parking is FREE, the boardwalk is OPEN, and most of the stores are too, and it's easy to walk the length of it contemplating your very own Maruca's Tomato Pie. I suggest you park and start walking down the boardwalk from the North end. It's a test to see how strong your Pizza willpower is as you will continue to pass one after another of typical NY style pizza shops trying to entice
you with their wares. Don't be fooled! KEEP WALKING! Not only is it good for your health, but by the time you arrive at the South end where Maruca's Tomato Pie's is located the salt air will have given you the stamina needed to polish off an extra large 24″ Tomato Pie!
If you are looking for great Italain products, here is a resource for you. For example you can find Italian Cheese, Italian Pasta and Italian Truffle Products
You will have conquered the Everest of Pizza challenges, not only did you have to endure all those slice shops along the way, but you sought out, and found, in my opinion, the Best Tomato Pie in NJ this side of Trenton!! If this were 1778 then General George Washington would have stationed his troops around Seaside Park to keep the British from being able to obtain any Maruca's Tomato Pies!! Yes, they have a website, but don't take the surprise and enjoyment of the 'hunt' out of this expedition…load up your pizza loving friends and drive the whole carload of you down to see for yourselves!!
It's a COMPLETELY different Pizza Experience then you've ever had on the East Coast! I
already crave another Maruca's Tomato Pie and I was only there YESTERDAY!!
Eugene
in Sandy Hook, NJ
You can find the more Best Pizza in New Jersey at Pizza Therapy
Discover incredible Italian Tomato Sauces, right here.