Tony Gemignani, World Pizza Champion, Co-owner of Pyzano's Pizzeria

Tony Gemignani from
Legends of Pizza
Here, you can discover how Tony first got into the pizza business. His passion grew out of his family's love of Italian food.
There is also a very interesting video resource of Tony, here.
You can also listen to an interview between Albert Grande, of Pizza Therapy, and Tony Gemignani. Tony discusses his Triple Crown of Pizza win as well as, his new Pizza School.
The Following Interview is From Legends of Pizza, Volume 2
Tony: Yeah, you know I grew up in Fremont, California on a farm actually. My grandpa was a big Italian farmer. We lived with our grandpa; a typical Italian family. I never knew I was going to get into pizza.
Food was a big part of our life. We were on apricot orchards, cherry orchards, and fava beans. Italians call them horse beans. I grew up around food all the time especially watching my mom cook. That was a pretty big part of my life. I always tell everybody about that.
Like if it had garlic in it, then it had a lot of garlic. If it was spicy, it was really spicy. In the taste of the kitchen, your taste really comes from someone usually and that came from my mom.
My brother worked at a couple of pizzerias when he was sixteen, seventeen, and eighteen years old. I ended up, god when he was twenty-two, he had the idea of opening up his own. We went to our dad. I was getting out of high school, and I had no clue what I was going to do. He said, Let's do it together.
Some of the recipes and knowledge he knew of a couple of pizzerias that he worked at, he ended up opening up Pyzano's in 1991. That's where I started at. We soon became partners right after that. We started in 1991.
I would say the first pizza I threw was in 1991. I was the thrower. My brother was the guy who worked the oven. We had a bus boy and delivery driver at the same time back then because it was slow like any independent is when they first open. We found Castro Valley which was about half an hour from Fremont. It just really took off every since 1991. It just kept going, going, and going... (Continued in Legends of Pizza Volume 2)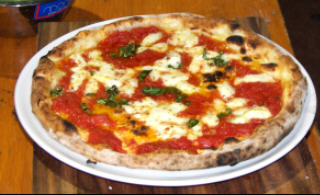 Tony's Award Winning Pizza
Here is an incredible film of Tony in the U.K. Making Pizza
Watch the video and learn as Tony shares all of his secrets...
Here are my thoughts on hanging out with Tony G. (from the January 2007 Issue of Pizza News)
You can't go out to lunch with Tony Gemignani without discussing pizza. This was some of the most in depth pizza conversations I have ever had.
I refer to Tony as The Ambassador of Pizza in Legends of Pizza, Volume 2. He lived up to his nick-name. He is also incredibly humble. Tony is a fantastic person. He has traveled the World, learning as well as teaching about pizza.
Needless to say, I was in pizza heaven! I can't thank you enough, Tony! I will share more of our conversation in up coming issues of Pizza News. In the meantime, you can discover Tony on Legends of Pizza, Volume 2.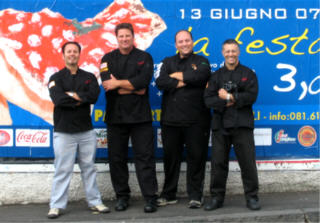 Tony with the World Pizza Champions in Italy
Listen to an interview with Tony right now...
Listen as he explains:
How he had to make his dough in his hotel room

One of the judges was the Pope's personal pizza maker

How he made it into the Guinness Book of World Records

His latest project: the first ever Certified Pizza School in the U.S.

His take on the New Haven Pizza (Wooster Street):
He went to Modern, Pepe's and Sally's

Click Play...
Learn more about the Legends of Pizza, here:
Legends of Pizza Volume 1 on CD
Legends of Pizza Download on MP3
Featuring interviews with: Chris Bianco Gary Bimonte Peter Reinhart
Legends of Pizza Volume 2 on CD
Legends of Pizza Download on MP3
Tony Gemignani Brian Spangler Ed LaDou
Read The Legends of Pizza e-Book.
(Contains transcripts of all interviews)