Interview with John Arena, the Pizza Professor
This interview was recorded exclusively for legendsofpizza and pizzatherapy.com

Discover an exclusive discussion with John Arena
from Metro Pizza, Las Vegas, right here.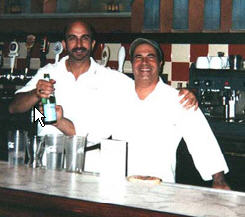 John and his cousin Sam Facchini are
creating a pizza community like no other.
John not only makes pizza, but teaches a class at
University of Nevada, Las Vegas about pizza.
(And you can get college credit for it...)
Here is a description, click on link for more information:
Course Description: A survey course on the history, culture and developing trends in the creation and production of pizza. The course includes, lectures, readings, ingredient analysis, production demonstrations and hands-on work with regard to the art and science of pizza-making.
John is both a student and a teacher of pizza. He praises Chris Bianco and takes his staff to eat at Bianco's Restaurant every year,
In the following interview john discusses:
How he learned the pizza business

His philosophy of creating a pizza community

Why he pays his customers $25 gift certificates to visit other pizzerias

His take on the kinds of regional pizzerias in the United States

Why he takes his entire staff to visit Chris Bianco's Pizzeria every year
He offers incredible insight on Chris Bianco

He gives great tips for the home pizza maker

What is the one pizza tool you should "throw away" if you are making pizza

How he created a College Class called The Culture of Pizza
This was a fascinating interview. You will discover tons of use information.
This interview is full of incredible pizza facts and insight.
Listen to John's Interview below:

(Interview: 42:54 minutes)
"Dear Albert, Your site is fantastic. I have been a pizzaiolo since 1967
(starting in our family pizzeria in New York, at age 13)
but I still found your information to be an inspiration.

I thought you might be interested in a class my business partner and I
are teaching at UNLV (University Nevada, Las Vegas) this semester called "The Culture of Pizza". I believe it to be the first fully accredited pizza course taught at a four year university.
The students are Hospitality majors and they have been fantastic so far (we are in week 5). this class is limited to 15 students, but the department head told me they have had dozens of students and faculty members trying to get in after it filled up in just 20 minutes. Obviously, as you have noted, people are attached to pizza in a way that is quite different from other foods.
This class is an expansion of a monthly pizza class we have been teaching in our pizzerias for several years."
John Arena from
Pizza News, April 2008

John's pizzeria philosophy:
"...We believe that a true Pizzeria should be a gathering place for family and friends to relax, share great food and enjoy each other's company. We have visited hundreds of Pizzerias across the country, learning and gathering recipes to bring our guests a taste of home, wherever home might be...."
Metro Pizza
( 5 Locations including:)
1395 East Tropicana Avenue
Las Vegas, Nevada
Tropicana & Maryland Parkway
(702) 736-1955
This is the text book John uses:

Everybody Loves Pizza