You can become a master cook of Italian Soul Food!
"How to Cook Italian Food, and Influence Everyone...!"
You can discover the hidden secrets of Italian Cooking...
Lost for almost 100 years, these recipes are classics!
Learn the inside tips and tricks of making Healthy Old World Italian Food...
Hello, my name is Albert Grande.
I am the creator of Pizza Therapy, a website devoted to pizza and Italian food. Pizza Therapy has been featured in three books, television, radio, movies, newspapers and magazines. I want to share with you an amazing collection of recipes, available no-where else.
Discover recipes which have no additives, no chemicals, and contain all natural ingredients. Each recipe contains pure goodness... this is exactly how my grandmothers created meals for their families...
Now I am pleased to share with you, the secrets of Italian cooking that had been lost to me for many years...
Imagine being able to create incredible Italian food right in your own kitchen...just like my grandmothers did.

Albert Grande, The Pizza Promoter

RE: Learn how to cook Italian, the old fashioned way......
The Happy Italian Cookbook

From: Albert Grande
Dear Friend:
Ifyou ever wanted to learn the secrets of making Italian food you came to the right place...There is nothing quite like the taste of home-made Italian cooking. And I should know: all four of my grandparents were Italian...
I was very fortunate to be able to watch both of my Italian grandmother's make their specialties. I watched. I listened. I took notes...I wanted to know how they created their simple masterpieces....
But honestly, even after watching them cook for hours, my observation and notes did not help very much...I needed more support. I needed more information.
I did learn one important recipe...After watching them, and taking notes, I was able to learn how to make a good spaghetti sauce (gravy). I learned well. People compliment me on my sauce all the time. But I wanted more. Much more.
"I asked them many times to tell me their secrets....but I never got them to reveal the real inside tips and tricks... until now!"
I wanted to learn more. I wanted other recipes. I watched what they created. I begged them to tell me how they made their chicken, their beef, their seafood taste like a fine dining meal...
How much spice did they put in? What were the techniques...How did they do it?
Unfortunately, I was never able to discover all their secrets. Never...
Until now....
I discovered a cook book which re-created many of the recipes made by my grandmothers...
At first I stared at these countless recipes in total disbelief...
This could not be possible I thought...
As I read the recipes in this book, I could feel my Italian grandmothers looking over my shoulder. These recipes struck a chord with me. "Finally", I thought, "after all these years..."
I had found the answer...
I discovered some of the magic and secrets of my grandmothers recipes, in a long forgotten volume on how to create, Italian food.
Now you can claim these secrets of amazing Italian food as your own ...I am honored to present to you these incredible recipes in my new book...
Over 200 hundred unique Italian recipes...
Here's what my mom said: "Albert, these are real old school recipes, just like my mom used to make..."
You Can Discover the Secrets of Old Style Italian Cooking...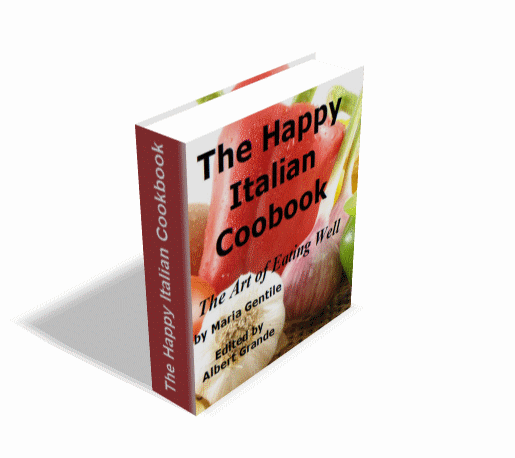 The Happy Italian Cook Book: The Art of Eating Well
These recipes will give you a road map to be able to make incredible Italian Food. Good food. Healthy Food... Not one additive, or chemical. Just pure natural goodness!
These are authentic Italian recipes in the style of real old world cuisine....
You can eat well everyday!
The Happy Italian Cookbook is available exclusively to you now...
With these easy step by step directions you will be able to re-create true healthy food.

Learn Easy Italian recipes in a clear easy to read style
All the recipes contained are clickable. This e-book acts like a web site. Go to the exact recipe you want.
This is a recipe book like no other. Truly unique. Truly different..
The Happy Italian Cook Book: The Art of Eating Well
The Happy Italian Cook Book: How to Eat Well....is your personal roadmap to Italian goodness..
If you are looking for a cookbook in the style of Mario Batali, Rachel Ray or Martha Stewart, this book is not for you... If that is what you are looking for, read no further.
If you are searching for something totally unique and totally different, please read on...
This e-book is unlike anything else you may have seen before....
Consider this cookbook a road map to a better time. A unique type of cooking. A time machine to a simpler era. A time when nothing was wasted and every bit of food created in the kitchen was good for you...
You not only get over 200 amazing recipes, but you will learn the inside secrets of Italian cuisine.
You will unlock the secrets of:

Italian Ices, Syrups, and Desserts

Mushrooms, pot roast, trout, egg dishes, 3 different eggplant recipes

And the unusual: eel, tripe and baccala (codfish), trout, rabbit, lamb and more...

Rice cakes, polenta, stuffed rolls

Vegetable soup, lentil soup, bean soup, bread soup and so much more....

Ravioli, 6 Macaroni recipes, sauces of all description... All kinds of sauces for your pastas...

Lobster risotto, artichokes, Gnocci,

Learn new ways to cook veal, beef including tenderloin and steak, chicken, duck

Discover soups, chowders, broths...and much much more...
I think it's plain to see that The Happy Italian Cookbook can impact the way you cook almost immediately.

Listen: you don't just have to take my word for it...

Here's What Others Say...
"The recipes bring back great memories for me...
"
"...Very nice.
The recipes bring back great memories for me.
I smiled when I saw "bread soup" that was one my grandmother made. I think you may have something here..."
Mrs. Gloria Grande,
Albert Grande's mom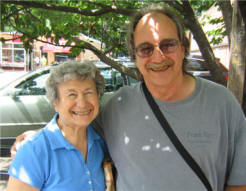 ---
"The Happy Italian Cook Book is just what I have been looking for
...
"
"For a nice Jewish boy who grew up in New Jersey, The Happy Italian Cook Book is just what I have been looking for. Good tasting recipes to follow with the right Italian names and easy to locate ingredients. I see no reason to fear trying them out."
Chuck Krall
CHUCK KRALL STILL PHOTOGRAPHS
213-688-0838
http://www.chuckkrall.com/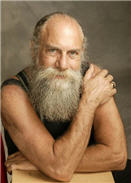 ---
"
Albert Grande has hit one out of the park with this cookb
ook!...
"
"Albert Grande's family-found recipes are a surefire way to add some great new zing into your culinary stylings. Few people on Earth have as much passion for pizza-related matters as Albert Grande. He put as much love and know-how into this book as he has into his pizza endeavors; so that's a guarantee you'll dig his family's choice of classic Italian recipes.
When people love what they do, they usually do it quite well. Albert Grande does far better than that with his new cookbook. This is a project borne out of love and passion for great food. Albert Grande has hit one out of the park with this cookbook! People say, "They don't make 'em like they used to." That is so true of the recipes that end up the being the dishes in this cookbook.
100-year-old authentic Italian-family recipes? Who wouldn't want a cookbook like that?"
Michael Dorian

Director, Pizza! The Movie
http://www.thepizzamovie.com/
---
This is an essential work that will preserve rustic Italian heritage and turn any home cook into a "Happy Italian..."
" For those of us who were lucky enough to cook at our Italian Grandmothers side, this book will recapture joyful memories. For those who missed that chance, this is an essential guide to recreating the recipes brought from the Mezzogiorno 100 years ago. This is an essential work that will preserve rustic Italian heritage and turn any home cook into a "Happy Italian"

John Area

The Pizza Professor
Co-owner of Metro Pizza, Las Vegas, Nevada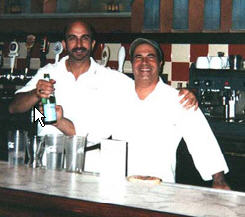 John Arena and Cousin Sam of Metro Pizza, Las Vegas
Also includes these bonuses:
Bonus Offers: Essentials of Cookery
#1: An incredible bread baking resource:
Bonus #1: Essentials of Cookery: Cereals, Bread and Hot Breads
(Value: $37.00)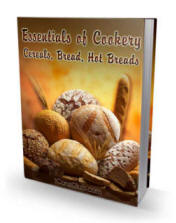 Essentials of Cookery; Cereals, Bread and Hot Bread breaks the mold of all the other cook books you have heard and read about. It presents solid, proven steps to help you learn how to create the delicious breads and cereals you've always wanted.

Suppose you could finally make delicious breads and cereals at home--simply and easily?

Imagine being able to eat fresh baked breads and hot breads; fresh from your own oven!

Sounds too good to be true?

It's not and I can prove it with Essentials of Cookery; Cereals, Bread and Hot Bread.

Absolutely everything anyone would ever need to learn how to successfully create breads, pastas and cereals is contained within this impressive work.

Learn to make popovers

Boston Brown Bread

Southern corn Cake

Sweet Buns

Baking-Powder Biscuits
and much much more... This volume explains the entire process...
(This is a $37.00 Value: Free when you order
The Happy Italian Cookbook)
#2: My personal red sauce recipe, step by step video instructions
Bonus #2 Albert Grande's Gravy / Spaghetti Sauce Recipe Video
(Value: $13.97)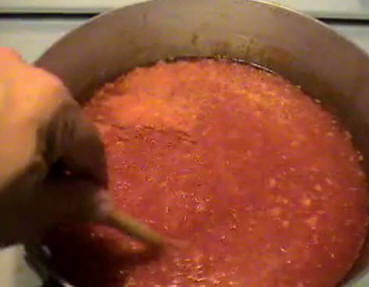 Step by step simple instructions to make your own sauce...
Claim your own personal copy my Spaghetti Sauce Video. I take you step by step through making your own incredible homemade red sauce.
Each step is clearly explained. I tell you the ingredients I use to make my own red sauce.
You can make your own incredible Italian Red sauce in your own kitchen.
This recipe is a hybrid of my mother's recipe, Grandma Grande's recipe and Grandma Palmieri's recipe.
Here are my sauce secrets that have taken me years to perfect.

Discover an easy way to peel garlic

How easy it is to make sauce.

The biggest secret I learned from my grandmother's about cooking sauce (gravy).

How simple ingredients can make an incredible red sauce

My secret ingredient that I use every time I make a red sauce.
Plus I will give you a Copy of my Red Sauce Recipe, to download.
(This is a $13.97 Value: Free when you order
The Happy Italian Cookbook)
You can now own the inside secrets and tricks to making amazing Italian food.
Now if you were to claim the bonuses separately, plus The Happy Italian Cook book, you would easily pay well over $50.00.
You can now have all of these insights about cooking Italian soul food to share with your own friends and families. You can have everything.
I thought these secrets were lost forever, now I am excited to be able to share them with you...
I want to take all of the risk: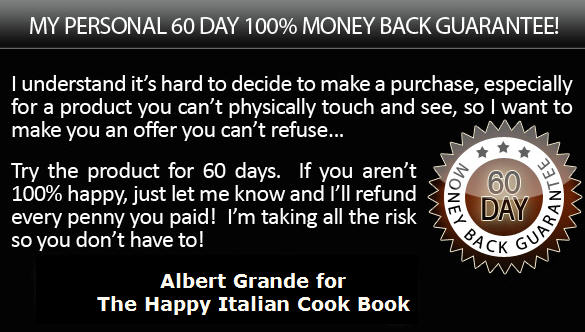 Here is my total satisfaction platinum guarantee:
After you claim your copy, and have downloaded
The Happy Italian Cookbook and all of the bonuses. I have a favor to ask.
Please take 10 minutes to review your order.
If after reviewing this e-book and bonuses for 10 minutes,
you are not totally and completely satisfied, I demand that you ask for a refund.
I will cheerfully refund every penny that you paid:
No questions asked!
And of course, you have 60 days to make up your mind.
I think you would agree, that is more than fair.
Click Below to claim your copy of:
The Happy Italian Cook Book
Claim your copy below, right now and have instant access! No waiting, even if its 3:00 AM.
Best of success, with your cooking adventures,

Albert Grande
P.S. Don't stay in the dark like I was. I never thought I would have these secrets revealed! You can now get all of the secrets of my grandmothers. Delivered to you instantly, even if its 3:00 AM
P.P.S. Remember there is a total 60 day guarantee. If this does not change the way you cook food, let me know and I will cheerfully give you a complete refund. We'll part as friends, with no hard feelings!
Risk Free Acceptance Form:
Yes, Albert! I want... The Happy Italian Cookbook
"I understand that by acting today I

will immediately receive a copy of The Happy Italian Cook Book plus the added bonuses of Essentials of Cookery: Cereals, Bread and

H

ot Bread

s

plus

the Sauce / Gravy Video and Spaghetti Sauce Recipe.

.

I want to get my

hands on this cutting edge

cooking

strategy..."

"It is on that basis that I am clicking the secure order button below and entering my credit card details this instant!"

Get Your Copy Now For Only
$11.97
Internet Security Note
The Secure Order Form on the
next page will look like this: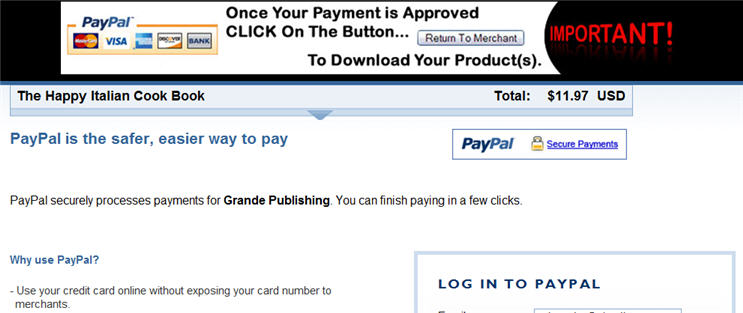 Questions? Please feel free to e-mail me.
Email: webmaster@pizzatherapy.com
© Grande Publishing 2000-2010